Korim Mia
Tandoori Chef
I am your tandoori chef. I am responsible for all the tandoori dishes and naan bread. I only use fresh spices and herbs to marinate the tandoori dishes. All my tandoori dishes are fresh to cook upon order. But the uniqueness in my dishes you can tell by its taste and flavour.
Forid Ahmed
Head Chef
My job is to make sure your food is cooked with utmost quality and taste. Thanks to my hard working team who work hard to serve the best food to your plate.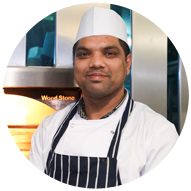 Abdul Mutlib
Assistant chef
We are here to give you the best dining experience. We have unique recipes to create recipes for your palate to enjoy.